Facebook
Twitter
Flipboard
Print
Email
close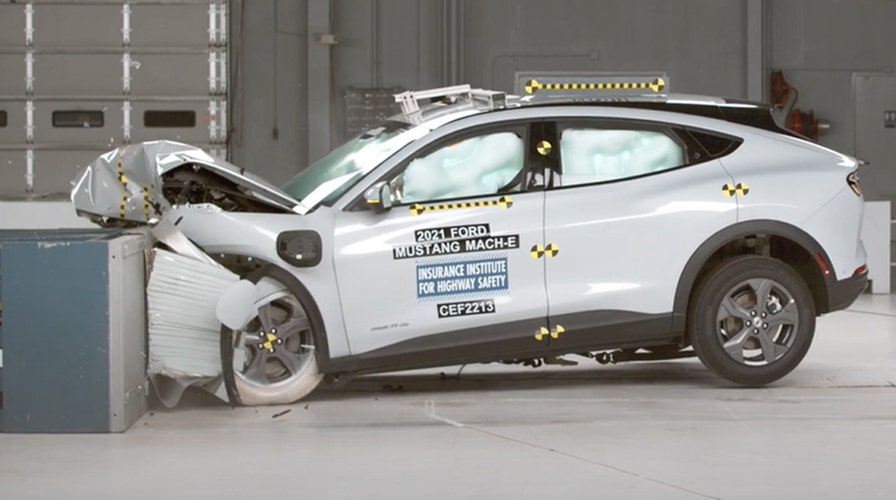 Video
Test drive: 2021 Ford Mustang Mach-E GT
The electric muscle SUV.
The electric Ford Mustang Mach-E received the highest crash safety scores of 13 midsize SUVs recently tested by the Insurance Institute for Highway Safety (IIHS) for injury protection in a "moderate overlap front" collision.
The tests included second row passenger safety ratings for and the Mustang Mach-E was the only model to receive a perfect score in the test, which simulates a vehicle being struck in the front off-center.
"All these vehicles provide excellent protection for the driver," said IIHS President David Harkey, "but only a handful extend that level of safety to the back seat."
The test uses a dummy designed to replicate a small woman or 12-year-old child.
MOST VEHICLES CAN'T PASS MUSTER IN NEW TOUGHER CRASH TESTS
 The Mustang Mach-E earned the highest scores. (IIHS)
It monitors how well the seatbelt works to restrain them, including avoiding contact with the front seat, applying too much pressure to their body or allowing them to "submarine" under the lap belt over five categories.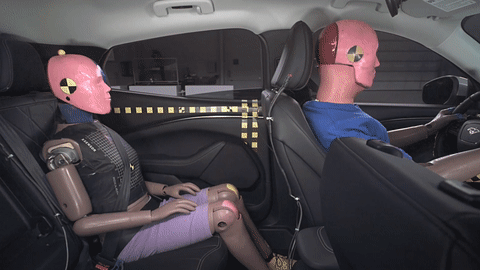 The Mustang Mach-E was the only vehicle ranked Good for all rear passenger safety metrics. (IIHS)
The Mustang Mach-E received top Good score on all driver and rear passenger ratings, while the Model Y ranked Acceptable for rear passenger restraints & kinematics, because it allowed the passenger's head to get to close to the front seat. The electric Tesla was rated Good in the other nine categories and overall. The four possible scores are Good, Acceptable, Marginal and Poor.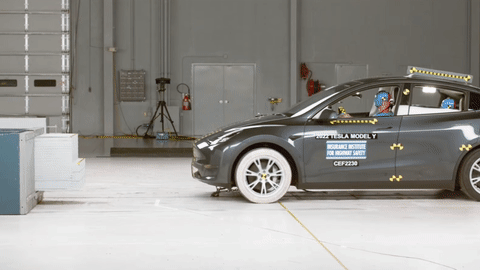 Tesla received Good scores in nine out of 10 categories. (IIHS)
The Ford Explorer and Subaru Ascent also received overall Good scores, but were rated Acceptable on two rear passenger metrics.
CLICK HERE TO SIGN UP FOR THE FOX NEWS AUTOS NEWSLETTER
The Chevrolet Traverse, Toyota Highlander, and Volkswagen Atlas earned Marginal overall scores due to their rear seat performance, while the Honda Pilot, Hyundai Palisade, Jeep Grand Cherokee, Jeep Wrangler 4-door, Mazda CX-9 and Nissan Murano were given Poor ratings.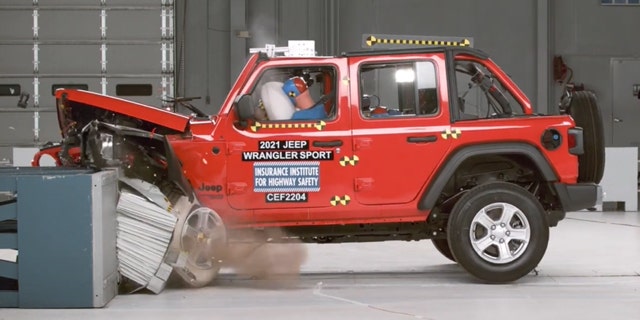 The test covers several model years for some vehicles, like the 2021 to 2023 Jeep Wranglers, if they have not been significantly updated. (Jeep)
All the ratings covered 2023 models except for the Pilot which was a 2022 as it was fully redesigned this year, but has not been tested yet.
CLICK HERE TO GET THE FOX NEWS APP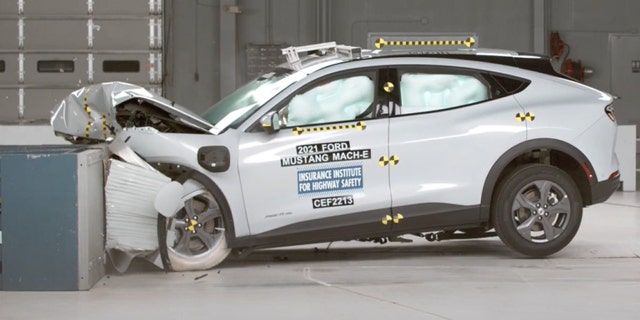 The moderate overlap crash test simulates a vehicle being struck off-center in the front. (IIHS)
"Zeroing in on weaknesses in rear seat safety is an opportunity to make big gains in a short time, since solutions that are already proven to work in the front can successfully be adapted for the rear," said IIHS Senior Research Engineer Marcy Edwards.